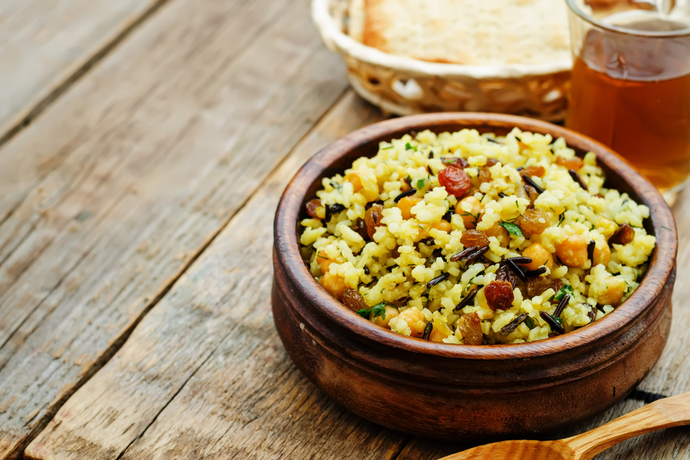 Increasing your fiber intake can come with a host of health benefits—but sometimes, your digestive health may benefit from cutting back on fiber.
Fiber is an essential nutrient to include in a healthy diet. A high fiber has a host of health benefits, from lowering cholesterol levels to controlling blood sugar. But what's the role of fiber when it comes to digestive health?

Fiber 101
There are two types of fiber:
Soluble fiber, which can help slow digestion and alleviate GI symptoms like diarrhea, and can be found in foods like apples, carrots, oats, and lentils.
Insoluble fiber, which can have a laxative effect that can help improve GI symptoms like constipation, and can be found in foods like broccoli, grapes, nuts and seeds, and whole grains.
Eating a high-fiber diet that incorporates both soluble and insoluble fiber can help maintain bowel health and regulate bowel movements.

High-Fiber Foods
Are you looking to increase your fiber intake? It's important to add both soluble and insoluble fiber to your diet. Start by eating a variety of these high-fiber foods:
Apples
Artichokes
Barley
Beans
Blackberries
Blueberries
Broccoli
Brown rice
Bulgur
Cabbage
Carrots
Celery
Chickpeas
Coconut
Corn
Couscous
Cucumber
Dates
Farro
Grapes
Green beans
Flaxseeds
Kamut
Lentils
Nuts
Oats
Onions
Oranges
Pears
Popcorn
Prunes
Pumpkin
Quinoa
Raisins
Raspberries
Seeds
Squash
Strawberries
Tomatoes
Whole grain breads and cereals
Whole wheat breads and cereals
Wild rice
Zucchini
Pro tip: If you're looking to add more fiber to your diet, make sure to do it slowly—adding too much, too quick can trigger uncomfortable symptoms like gas, bloating, and cramping. Increase fiber intake gradually, over the course of a few weeks, to allow your digestive system to adjust accordingly. Choose foods that contain at least 4 grams of fiber per serving, and aim to eventually get 25 to 35 grabs of fiber each day. And be sure to drink plenty of water, to help your body process fiber.

Foods Low in Fiber
Even though fiber is a generally a part of a healthy diet, some digestive issues actually require limiting your fiber intake. A low-fiber diet should focus on the following foods:
Canned or well-cooked, skinless, seedless vegetables
Canned or well-cooked, skinless, seedless fruits
Cereal (varieties that contain less than 1 gram of fiber per serving)
Cheese
Chicken broth
Crackers
Cream of Wheat
Eggs
Fish
Flavored water
Ice cream
Juice (varieties with no pulp)
Meat
Milk
Pancakes or waffles made with white refined flour
Poultry
Potatoes (without skin, small serving — approx. ½ cup)
Pudding
Tofu
White bread (no nuts or seeds)
White rice
White pasta
Yogurt
Pro tip: The ability to digest certain foods—like dairy—can vary from person to person, so work with your dietitian to come up with the best low-fiber diet for you. Be sure to read food labels, as fiber can crop up in unexpected places, like yogurt, cereal, and certain beverages. Look for foods that have a maximum of 1 gram of fiber per serving. Once your digestive health is back on track, your dietitian may recommend slowly adding more high-fiber foods back into your diet.